Marketing's 10 hottest fashion websites
LONDON - Marketing identifies the websites that marketers should trawl for trends in fashion retailing.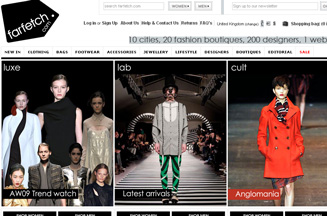 Fashion websites are becoming more than e-commerce platforms as shoppers turn to them for fashion tips. It is no wonder that last week women's magazines reported such lacklustre circulation.
1. The Outnet - theoutnet.com
The Outnet, along with anonymous brown paper packaging, is Net-a-Porter's response to the recession. Essentially, this is a cross between a sample sale and a discount warehouse, minus the hassle and passive-aggressive shop assistants. Each month the site hosts Pop-Up sales for limited periods featuring hefty reductions on an interesting range of brands.
2. Etsy - etsy.com
Comparing Etsy with eBay is akin to comparing Chanel's Paris flagship store with Primark's Hammersmith outpost. The latter is all about volume and price while the former is all about design, authenticity and all things beautiful. Offering a vast array of handmade and vintage products including jewellery and bags, it is a great forum for new and aspiring designers and has a thriving craft community. The site is a great place for smaller brands and designers to build up a following.
3. Asos - community.asos.com
There is a reason why every fashion retailer in the UK is eye-wateringly jealous of Asos' social media strategy and healthy bottom line. Put simply, it works. Adding salt to the wound is the fact that this is not the work of some specialist digital agency - in fact, there are barely any agencies involved. The numerous blogs and multiple Twitter feeds are simply the musings of the staff at Asos, from marketers to buyers sharing their enthusiasm for clothes. Perfect.
4. The Copenhagen Cycle Chic Blog - copenhagencyclechic.com
In London, where women cyclists have to endure cat calls and many drivers' tendency to see them as a moving targets rather than legitimate fellow road-users, this blog is a revelation. Beautiful pictures of stylish women who manage to combine cycling with wearing a dress (surely impossible) and clearly don't suffer from 'helmet hair'. Popular with biking and fashion brands, the site clicks through to many other transactional websites.
5. Farfetch.com - farfetch.com
If tramping the streets of London seeking out new and interesting brands seems a bit too much like hard work, then Farfetch.com is for you. This quirky website brings together small boutiques to offer a well-edited collection of the season's key trends. A great example of how smaller brands can team together online to grow their market share and compete with bigger players.
6. Urban Junkies - urbanjunkies.com
Not just a fashion site, UJ covers events, shopping and health and beauty in London and Barcelona. With great editorial and exclusive deals, it also provides an informative weekend email round-up of interesting things to do in London.
7. Harvey Nichols - harveynichols.com
Although you can only buy a limited range of products online at the moment, next month Harvey Nichols will begin selling fashion online. This can not replicate the joyous in-store people-watching experience, of course, but will nonetheless include a raft of interesting designers reflecting the store's eclectic blend of designers. Add the fact that the retailer is poised to launch a younger-fashion line and an own-brand label, and this is yet another reason to keep shopping.
8. The Sartorialist - thesartorialist.blogspot.com
Scott Schuman's fashion blog is a well-known favourite of the industry for a reason. After working in fashion marketing and sales, he took to the streets to take pictures of interesting, and usually extremely attractive, people. The site is a great place to follow trends and admire the view, or just be nosey. Uniquely, there is no product placement or the click'n'buy links favoured by mainstream fashion publishers; this is fashion to be seen, not to be sold.
9. Net-A-Porter - net-a-porter.com
The original and the best there is nothing wrong with a bit of 'NAPing' to beat the credit crunch blues. (Recession? What recession? The Alexander Wang fitted corset dress I'm after may have a £700 price tag, but it is actually sold out.) The site benefits from digital editorial, which puts the clunky ceros page-turning technology used by many brands to shame. Beautifully designed with photography to rival the glossies, it is no wonder the site has staying power in the fickle world of fashion.
10. What Katie Wore - whatkatiewore.com
Saving the best for last is the What Katie Wore blog the ultimate in fashion motivation. Everyday Katie's boyfriend Joe photographs her in a different outfit - this girl must have a wardrobe straight out of Narnia. A mixture of high street, vintage and high fashion, it may induce extreme outfit envy. Every item of Katie's outfit links to the brand's website, making it a one-stop click'n' buy destination. According to the blog, Joe and Katie both work in advertising; however, there is no sign of the industry-standard ad-exec specs or 'witty' slogan T-shirts.
By Nicola Clark, marketingmagazine.co.uk, 18 August 2009, 08:50am